Weldflow Metal Products has once again invested in newer laser metal cutting technology to keep up with change and continuous improvements and become laser cutting company. Weldflow has added to its Laser cutting capabilities in Ontario by acquiring AMADA's ENSIS 3015 AJ fiber laser. We are one of the first Laser cutting Mississauga company to have ENSIS fiber laser with thick to thin cutting beam in one setting.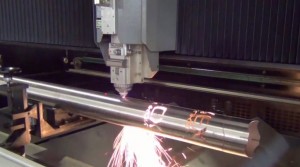 Weldflow Metal Products after lengthy research and analysis decided on Ensis based technology as it is not only more productive but also energy-efficient since it enables 2kW of laser metal cutting power to laser cut profile steel components that would have required a 4kW laser. Moreover, with this type of Fiber laser has added capabilities of Aluminum laser cutting along with other material like Stainless Steel, Galvanized, Satin Coat, Brass and Copper. It has added facility of providing etching and letter cutting with precision for signage industry and similar requirement in special cutting profiles.
Weldflow has unique expertise in Laser cutting greater Toronto area and can provide precision laser cutting technology for highly controlled dimensions without the use of secondary operations. In our company Laser cutting has expanded beyond prototype applications roles into volume production in all segments of sheet-metal fabrication.